April 7, 2016
Moterum, LLC launches innovative MTip product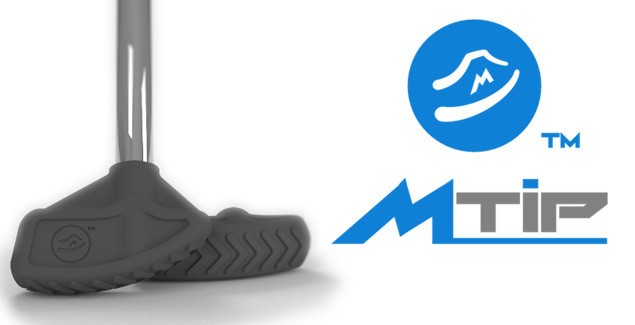 TAMPA, Fla. – Moterum LLC, has announced the launch of its novel patent-pending product, the MTip. The MTip, developed by the University of South Florida startup, is a small plastic piece that fits on the bottom of a crutch in place of the existing rubber stopper and provides crutch walking assistance and control.
"We are thrilled to introduce our new product, which will provide crutch users more stability and enable them to do more when using their crutches in a variety of conditions and environments that are inaccessible using normal crutch tips," said David Huizenga, chief executive officer of Moterum. "Our focus is to address the current problems that standard crutches present and provide solutions that enable more freedom to crutch users through efficient movement, controlled uphill and downhill descent, and greater traction."
The kinetic crutch tip technology was developed in the mechanical and biomedical laboratory of USF assistant professor Kyle B. Reed, as part of graduate student Ismet Handžić's PhD dissertation.
"Six million Americans use crutches, canes, or walkers for mobility assistance due to chronic conditions and more than 10 million Americans use crutches due to temporary injuries," said Huizenga. "The MTip was designed to address the issues of discomfort, instability and the inability to walk long distances that are associated with round rubber crutch tips."
The technology was awarded an Innovation-Corps (I-Corps) grant by the National Science Foundation and went through rigorous market analysis as part of USF's I-Corps "boot camp" training program.
"The common issues we found among crutch users during our customer discovery phase of the I-Corps program were fatigue, stability and confidence going over wet surfaces," said Huizenga. "We wanted to create a crutch tip that provided all users a safer, more comfortable experience, allowing them to do more."
The crutch tip technology was exclusively licensed to Moterum by USF. Moterum engineered the kinetic crutch tip design into the MTip product, which is available commercially and through the company's website (http://moterummtip.com/products/mtip-pair).
##
Moterum is an early-stage startup focusing on mobility and rehabilitation technologies. The company currently has four technologies in differing developmental stages in its portfolio.
The University of South Florida is a high-impact, global research university dedicated to student success. USF is a Top 25 research university among public institutions nationwide in total research expenditures, according to the National Science Foundation. Serving over 48,000 students, the USF System has an annual budget of $1.6 billion and an annual economic impact of $4.4 billion. USF is a member of the American Athletic Conference.
###
Media Contact:
Lauren Golin
813-974-0102
lgolin@usf.edu